Full-Service Grooming Experience
Grooming is an important part of keeping your pet healthy and clean. Proper dog grooming includes more than simply passing a brush over the pet's coat, however. Regular care of the ears, teeth and nails can help prevent serious health issues later. Our experienced staff can help you maintain your pets grooming. We offer a full-service grooming experience for your pet that can be done either during their stay or feel free to schedule a spa day. Please let our staff know, if you would like to book one of these services during your pet's stay with us.
Nail Trimming: Clipping the nails with special doggy nail clippers (can be done as a stand-alone service)
Ear Cleaning: Using a special alcohol-free ear cleaner and removal of hair in the ear canal (can be done as a stand-alone service)
Anal Gland Expression: External only (can be done as a stand-alone service)
Bath: A doggy PH balanced shampoo enriched with oatmeal and tea tree
Brush: A nice relaxing brushing with brushes and combs that suit your dog's hair type (can be done as a stand-alone service)
Hair Cut: (acceptable breeds) The hair cut of your choice depending on coat condition
Cologne: An extra spritz to make your pooch smell even better
Nail Grinding: Getting those nails shorter and smoother with a Dremel (can be done as a stand-alone service)
Shed-less Treatment: A deep shampoo and conditioning to help loosen the hair along with blowing out as much excess hair as possible, then using a special solution alongside a brush that best suits your pet
Bows: Many colors and color combos to choose from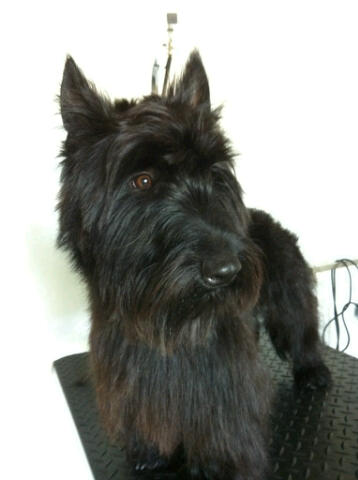 Grooming Pricing
&

Requirements
Grooming prices vary by breed. Mixed breeds are determined by size and breed mix. There may also be slight price adjustments based on size and condition of your Pet.
Grooming is offered Monday-Friday by appointment only. All dogs must be current on all shots including Rabies, Bordetella and DHLPP before grooming.
To inquire about pricing or to make an appointment feel free to give us a call or stop by!